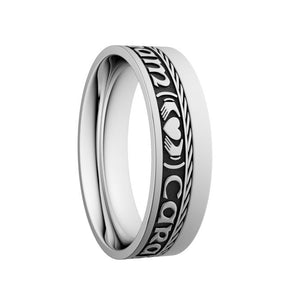 The Anam Cara design is Boru Jewelry's signature brand, originally designed in the mid '90's and it is still a firm favorite world wide. We created the original Mo Anam Cara, "My Soulmate" ring.
In Celtic tradition it is believed that when you connect with that special other person and become completely open and trusting with that individual, your two souls begin to flow together.
Should such a deep bond be formed, it is said you have found your Anam Cara or "Soulmate".
Part of the Gealltana Siorai (Eternal Promise) Collection, these promise rings epitomize a bond between a loved one, whether it be by marriage, friendship or some other form of bond, "Soul Mates" forever.
Metal: 

925 Sterling Silver

Weight: 10gms approx.
Width: 7.2 mm approx.
SKU: 02-07-0007