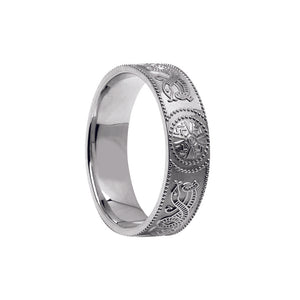 The Ardagh Chalice from the 8th century is Ireland's most prized artefact and is held in the National Museum of Ireland.
It is widely recognized as one of, if not THE, most important pieces of Celtic art found. A girdle of ten filigree panels of animal design, interlacing and shield decoration surrounds the neck of the chalice.
It is from these ornate designs that Boru was inspired to create their much loved and unique Celtic Warrior Collections and are what form the basis of the intricate designs featured on each piece.
Boru produce this ring in a variety of widths and finishes, all of which are finished to the highest standards and are assayed at Dublin Castle. Each piece is accompanied by a story card and is exquisitely packaged.
This is a comfort fit ring which means the inside is slightly domed to let the ring sit comfortably on the finger, the design going half way around the band.
Metal: 

925 Sterling Silver

Weight: 6.1gms approx.
Width: 6 mm approx.
SKU: 02-07-0005